Oct 10, 2023
By: Doug Baker, Vice President, Industry Relations, FMI
I'm not someone who is easily surprised.
Maybe I've become more immune after all the disruptions of recent years, ranging from the COVID-19 pandemic to extreme inflation.
But I must admit I was surprised — pleasantly surprised — by the findings in the latest FMI private brands research on consumer insights. Let me relay a few of these findings and then tell you which one surprised me the most.
Private Brands' Growing Momentum
FMI's newly released Power of Private Brands report paints an upbeat picture of how consumers feel about private brands. It's the most optimistic picture I've seen in the time I've been leading FMI's private brand activities over the past 10 years.
Buying Momentum Increases: About 60% of shoppers say they have been buying private brands much more or somewhat more over the past 12 months.
Price Isn't Only Motivator: Price and value are the key reasons shoppers are buying private brands, but two-thirds of shoppers mentioned at least one other driver, such as quality, taste and meeting meal solutions needs.
Private Brands Draw Shoppers into Stores: Private brands have grown their impact as a driver of shoppers' choice of store. Fifty three percent of shoppers say these brands are very or extremely important in picking a store, up from 46% in 2019 and 35% in 2016.
Positive Outlook for Future Buying
We added a forward-looking component to this year's research, and I'm glad we did. Fifty-four percent of shoppers said they expect to buy private brands somewhat or much more in the future. That compares to only 26% saying the same for manufacturer brands. This revealing statement bodes very well for private brands.
What Surprised Me the Most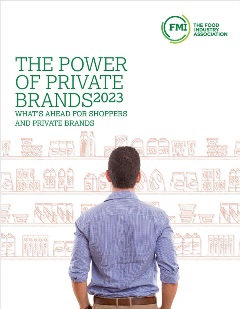 The private brands industry has worked hard in recent years to build a broader value proposition to ensure that shoppers don't just see these brands as vehicles to save money. Private brands are increasingly known for having such characteristics as quality, premium and innovation. We asked shoppers if they would stick with these brands even if price becomes less of a concern for them. This led to what I consider the most surprising — and gratifying — finding.
Ninety percent of shoppers said they are somewhat or very likely to continue purchasing private brands even if inflation or the price of groceries decreases. This is the biggest proof I've seen to date that private brands have reached a new plateau. After all the consumer trial of recent years, we're seeing indicators of growing loyalty to these brands that don't just rest on price.
How to Benefit from the Insights
There's much more in the report than what I've outlined here — including insights on category performance and an analysis of who are the frequent private brand shoppers. I encourage you to download the report and to register for the digital seminar to hear a panel of industry experts discuss the findings.
Opportunity for Additional Progress
The private brands industry will undoubtedly be pleased by the latest conclusions. Still, nothing about the future is assured and plenty of hard work will be needed to keep the momentum going. The industry needs to encourage further trial and convert more shoppers into frequent users of private brands. This approach is an effective way to inspire shoppers to become private brand champions.
Download the Power of Private Brands Register for Digital Seminar