Oct 18, 2021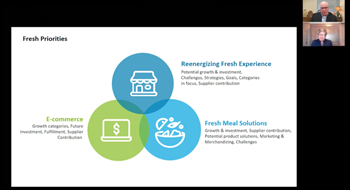 A first-time FMI/Deloitte survey of senior leaders finds the fresh industry is central to revenue growth plans during the next one to three years. The research, which takes the industry's pulse at this point in the pandemic, relays how leaders are backing up fresh foods opportunities with new strategic investments — from additional products and floor space to more staffing.

The survey is spotlighted in the latest FMI FreshForward Conversation, with Barb Renner, Deloitte's vice chair and U.S. consumer products leader. Renner details the findings and the key priorities identified, including in-store experience, fresh in e-commerce and fresh meal solutions. Deloitte is FMI's partner in the annual FreshForward conference.
Speakers:
Rick Stein, Vice President of Fresh, FMI

Barb Renner, Vice Chair and U.S. consumer products leader, Deloitte
View Recording A Fresh Take for Fresh Food Survey


Want more fresh foods insights? Subscribe to the FreshForward Conversation Series.