Aug 15, 2017
By: Sue Borra, RD, Chief Health and Wellness Officer for FMI and Executive Director of the FMI Foundation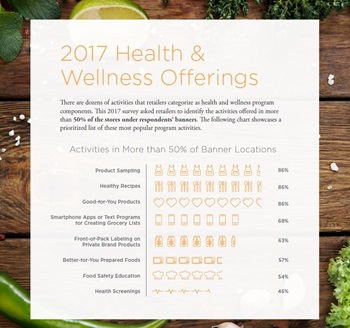 They say good things happen in threes, and for the food retail industry, three trends are propelling opportunities for food retail business that also better the lives of their customers. The convergence of the changing health care environment; consumers' interest in having a closer connection to their food; and supermarket-solution-provider capabilities all create the potential for dynamic relationships between the food retailer and the shopper. As a nutrition educator by training, I view this convergence of factors as a trifecta for positive behavior change.
If I look back to just three years ago in our industry, two primary leadership teams held responsibility for operationalized health and wellness initiatives in food retail – pharmacy (59 percent) and nutrition (50 percent) leadership teams. Now we're witnessing an entire category of managers for health and wellness leadership: 71 percent of these professionals are focused experts leading the decision-making process on how programs are established and operationalized.
FMI's Retailer Contributions to Health & Wellness 2017 report explores these trends playing out in the aisles of local grocery stores, and what's most encouraging to me is that we have witnessed commitment at the highest level of the companies for health and wellness initiatives, with 46 percent of survey respondents saying their president and CEO shares responsibility. This support from the top creates an environment for more effective collaboration between the traditional harbors of wellness – the pharmacists (nearly 100 percent) and dietitians (90 percent at corporate, regional and store) who remain prominent in the grocery store setting. This is illustrated by the fact that 75 percent of stores (up 52 percent in 2014) report that their pharmacists and dietitians are collaborating by referring customers to each other. In fact, the analysis finds that 58 percent report working together to develop programs and 33 percent collaborate to make specific recommendations.
The majority of food retailers in this survey currently view supermarket health and wellness programs as a significant business growth opportunity for the entire industry in the years ahead, which is significantly up by 70 percent since 2014 when we last surveyed our members. Eighty-nine percent of food retailers have established health and wellness programs for customers, employees or both, and 96 percent are committed to expanding programs in their stores.
In supporting a consumer's desire for a greater connection through food and having access to resources that make shopping informative and convenient, food retailers are creating winning health and wellness strategies. These business approaches are in turn influencing brands' outward communications tactics and personalizing their messaging. The analysis identified that the more customizable the tactic, the greater the perception of effectiveness. For instance, social media is pervasively used at 93 percent, but has an effectiveness score of 6.95 out of 10, compared to the 52 percent of businesses employing in-store store dietitians with an effectiveness rating of 9.
Retailer Contributions to Health & Wellness 2017 offers convincing arguments for integrated business and communications plans that directly respond to customer demands. Take it from a registered dietitian: I've learned in my food and nutrition career that success is best measured by how personal you can get when it comes to consumer health.