May 16, 2023
Arlington, Va.—Today, FMI—The Food Industry Association announces the five recipients of the 2023 Store Manager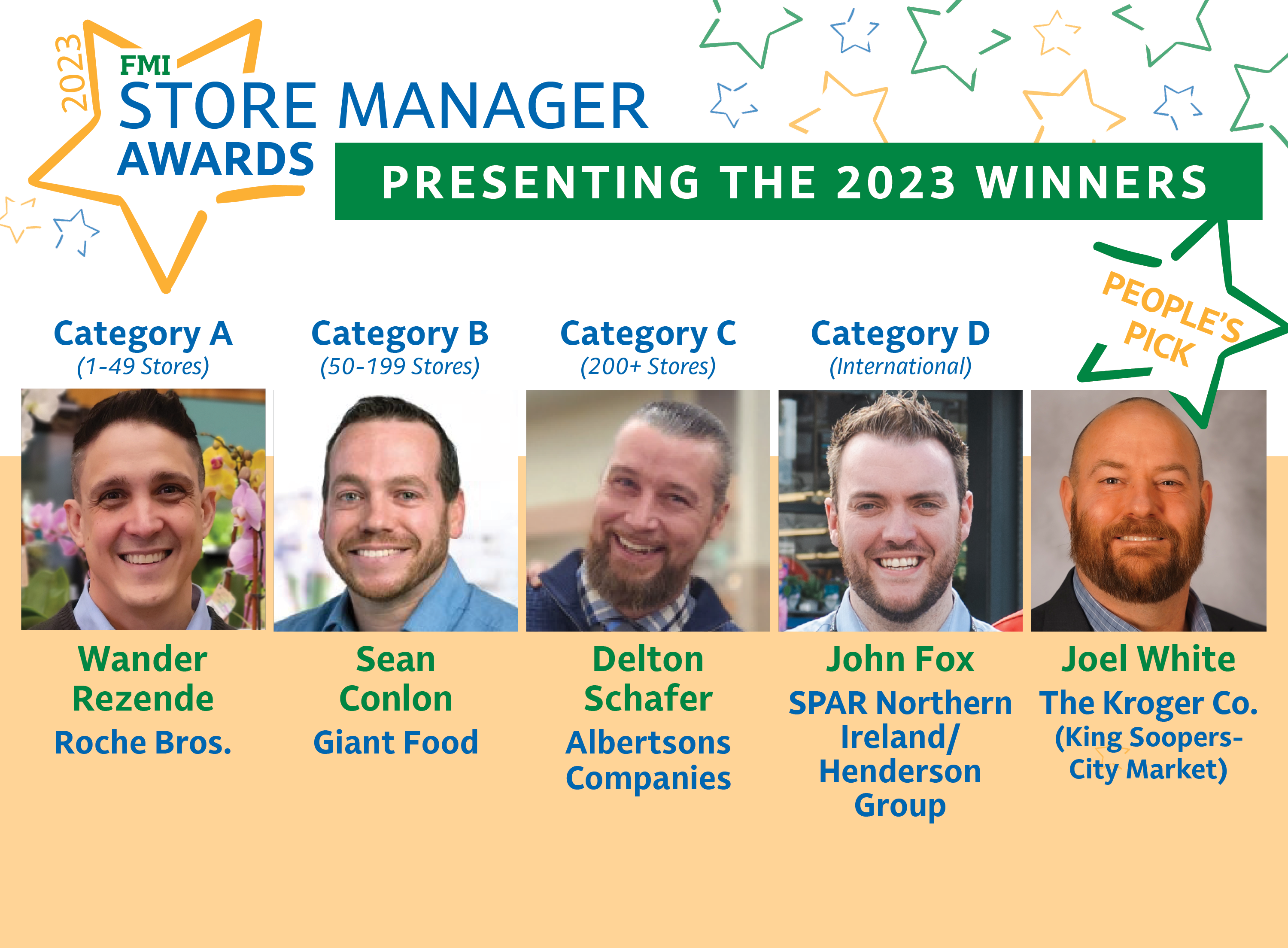 Awards. From 175 nominations, 12 finalists were honored during a live, virtual awards ceremony hosted by Heather Garlich, senior vice president for communications, marketing & consumer/community affairs at FMI, and Brian Sappington, president of the retail portfolio North America at The Coca-Cola Company.
"The Store Manager Awards is one of FMI's greatest achievements. Its expansion through the years is a testament to the talented and diverse individuals that make up the food industry," shared Leslie G. Sarasin, FMI's president and chief executive officer. "Our 2023 recipients are in a class of their own as they have maneuvered through post-pandemic challenges and shoppers' changing behaviors, all while serving as pillars of their local communities and uplifting their workforce. It is an honor to recognize and celebrate them."

"We are extremely honored and proud to be a part of the prestigious FMI Store Manager Awards," shared Brian Sappington. "It is our privilege to recognize and celebrate the dedication, innovation, and leadership of outstanding store managers across the nation who work tirelessly to make a positive impact in their communities. Their efforts contribute significantly to enhancing the customer experience, driving growth, and fostering a culture of excellence within the industry."

Store managers are evaluated based on their ability to generate sales growth; effectively communicate company and store goals and objectives; demonstrate team leadership in their store/company; provide exceptional customer service through in-store programs; and improve community relations.

2023 Store Manager Award Recipients:

Category A (1-49 stores):
Wander Rezende, Roche Bros.

Category B (50-199 stores):
Sean Conlon, Giant Food

Category C (200+ stores):
Delton Schafer, Albertsons Companies

Category D (International):
John Fox, SPAR Northern Ireland/Henderson Group

People's Pick Category:
Joel White, The Kroger Co. (King Soopers-City Market)

Four Grand Prize winners receive a crystal award and $1,000 each. The People's Pick recipient is awarded a special trophy and $500 to celebrate their store employees. Profiles recognizing the achievements of all recipients can be found on the Store Manager Awards website.

The Store Manager Awards are generously supported by The Coca-Cola Company.