May 14, 2015
By: Cathy Polley, RPh, Vice President, Health & Wellness, FMI & Executive Director, FMI Foundation

Since proclaiming September as National Family Meals Month™ (NFMM), my office has been abuzz with industry chatter about family meals and how FMI can help grocers promote the benefits of family meals and position themselves as the solution to mealtime for busy families of all shapes and size. A first-of-its-kind collaboration between FMI, the FMI Foundation and the food retail industry, NFMM seeks to spark an ongoing family meals movement—led by grocers—to inspire shoppers to come together at home for one more family meal each week.
With the first ever NFMM on September's horizon and a growing roster of enthusiastic supporters, our outreach efforts have been in overdrive. We're bringing that momentum with us to FMI Connect next month to rally the industry around family meals—a shared cause that's good for the health of your business and your community.
On Wednesday, June 10th in a joint session with Future Leaders @Connect, FMI President and Chief Executive Officer, Leslie Sarasin, will share a high-level examination of new 2015 U.S. Grocery Shopper Trends. Her remarks will focus on how these shopper trends are shaping family eating patterns and what they mean for supermarket business practices today.
To achieve the goal of one more family meal at home each week, FMI Connect will elevate the marketing potential around this initiative and deliver insights to help your business adapt to today's rapidly changing technologies, consumer engagement strategies, and intense competition from new formats.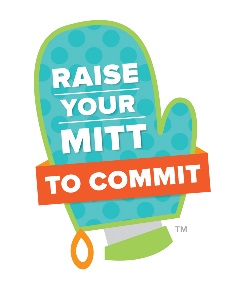 WARNING: As you're exploring the expo hall for the kind of innovative services and products you need to move your business forward, you just might find yourself face-to-face with a six-foot tall, smiling oven mitt. DO NOT BE ALARMED. THIS IS THE FUN PART! He responds to the name Mitty, and he's very friendly. He doesn't say much because oven mitts don't talk, but if you ask him to pose for a picture he is happy to oblige. In fact, as a younger and much thinner potholder, Mitty's burning desire to be photographed opened up a lot of oven doors in the competitive world of high flavor modeling. If he could speak I'm sure he'd have some saucy stories to dish out. If you're not familiar with the NFMM campaign you're probably asking, "What's with the giant oven mitt?" I'll explain . . .
Mitty represents a call to action for FMI Connect attendees to raise an oven mitt to commit to helping shoppers share one more meal at home per week. We invite you to join the movement and #raiseyourmitt at an interactive NFMM photo booth located in the Health & Wellness Zone. We hope you'll share your oven mitt selfie(s) on social media to help us take the movement's message viral. We look forward to seeing you #raiseyourmitt in support of #familymealsmonth at FMI Connect!
Note to FMI Connect exhibitors: Let retailers know you support National Family Meals Month™ by incorporating free downloadable campaign logos and graphics in your booth design at FMI Connect. Access free NFMM downloads from your FMI Connect exhibitor dashboard.